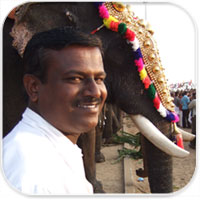 We found and lot of tourists discovered that Cherai is an ideal place for vacations and leisure activities. The main attraction here is Cherai beach, the real combination of beach on one side and the back waters on the other and it is unique to kerala; it finds true expression here. The greenery of long fringed coconut groves, infinitum of blue-sea and expletive colures of sunset, make an assurance of vivid memory in your vacations. Friendly and Smiling face of peoples in cherai have been made homely atmosphere. The warm atmospheric dealing of nature in cherai raises your joy, pleasure and tranquility of mind.
More over, the distance between cherai and the other holiday destinations -hill stations, wildlife, backwater entertainments, beaches, cities, Airport, Railwaystations, etc .are less than the other holiday destinations. This also makes cherai as a unique holiday destination.
Cheraibeach- is usually calm and the beach is swimmer's paradise. While spending their time on the beach, admiring its beauty, visitors can also take in the beautiful site of dolphins popping up the sea. Hump-backed dolphin is the most common species found here. Cherai is great for sea food. So once a visit in this beautiful land has makes you a regular visitor. We wish to share with you our life, our culture, our home, our kerala.
Tourism and the hospitality industry can develop only with the cooperation and whole hearted patronage of a friendly and hospitable host community. Cherai Tourism Development Society is a Charitable Organization has big role in the development of Cherai and pristine cherai beach. We unite all together for the total welfare of Cherai. We would like to help the tourist, investors, and similar organizations. Our motto should be receive a guest and to send back a friend. We would like to ensure the sincere co-operation of the private sector in developing this beautiful beach.
Society to procure the position the beach deserves and to fight for it .This charitable society comprises of all the tourism related institutions and the people interested in tourism promotion in and around Cherai. We will take up projects for fulfilling the basic needs of the tourists and to make the beach clean and echo-friendly. We will conduct seminars and awareness programmes and will publish guides and magazines for tourism promotion. Advocate. N.S Ajay leads this organization
We expect whole-hearted co-operation from the government and local authorities and good support from the public for this noble cause. Let us join and make the beach one of the best in the world.