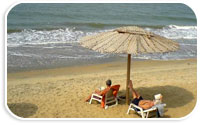 In 1341, Due to the unpredicted flood in Periyar river caused the formation of the Vypin Island . Cherai is situated in the Pallippuram panchayath, which is the north end of Vypin Island . The Island is 25 Kilometer long and has an average width of 3 kilometers. Cherai and Munambam are the two parts of Pallipuram Village .
Ancient port Musseries and Palliport was brought up by the Portuguese as twin cities.The hexagonal fort built by the Portuguese in 1503 &Chruch built by Duch are still stands as one of the oldest European Monuments in India . A little South of this fort, by the lakeside, the Portuguese had built a theological school called "Vypikotta Seminary". The printing press built at this School in 1577 is claimed to be the first printing press in Kerala by some historians.In 1661 the Dutch defeated Portuguese and took possession of this place , as a result of which the Seminary, which was under Jesuit priests, was transferred alongwith the press to Chendamangalam. The Dutch converted the Seminary to a Leprosy centre In 1728, the seminary was changed to leprosy asylum. In 1789 the Dutch sold this place to Thiruvathamkoor Maharaja.
In 1728, the Dutch sold Pallipuram to the King of Travancore. However, the Leprosy Centre and some adjoining buildings were excluded from this sale and continued to be with the Dutch. These properties came under British authority, eventually, when the British defeated the Dutch in 1795. Till recently, this area was known as "British". As per the agreement between the Dutch and British, the Leprosy Centre continued to be run till 1921. Afterwards, they were handed over to missionaries to establish a Nunnery and School, which are still functioning In 1795 this place came under the possession of the British East India Company. Till the independence it was under the British rule.
Saint Thomas :-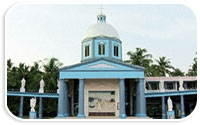 The various denominations of modern Saint Thomas Christians ascribe their unwritten tradition to the end of the 2nd century and believe that Thomas landed at Maliankara near Moothakunnam village in Paravur Taluk in AD 52.Ancient Musiris or Kodungallur where St. Thomas Arrived. The schematic map of the region around Kodungallur gives only a faint suggestion of the landscapes of the area, which is hardly above sea level and abounding in canals and lagoons and prone to flooding in the rainy season. The landstrip, 5 to 10 Km. broad near the sea shore, shows every sign of being newly formed by the sea receding in recent times.It is now not possible to locate the ancient site of Musiris harbour, nor that of Mahodayapuram of the Chera Kings precisely at any of the present sites of the environs of Kodungallur. No structure or building existing today in the area can be dated back to more than 6 centuries
Eminent Personalities:-
Sahodaran Ayyappan------- was a Social reformer, thinker, journalist, and Politician of Kerala, India .
K C Abraham Master------- Politician, Former Governor in Andra Pardeesh
Dr. K.A Sreedharan--------- Famouse Homeopathic Doctor, who won Dr. Hahnemann award
Mathai Manjooran---------- Was an Indian independence activist ,Politician,
P.K. Balakrishnan----------- Malayalam Author, Literary Critic, Journalist, Historian