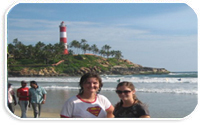 Kovalam is an evergreen and pleasant climatic world-famous beach resort, which has been a favorite spot for tourists since 1930s. Kovalam is a dreamland for tourists all over the world with high rock promontory and a calm bay of blue waters, this beach paradise creates a unique aquarelle on moonlit nights .It was among the most prominent tourist spots in India during the hippy era. It still has a high status among tourists mostly European even now the glory of this beach attracting more and more tourists-western.This beach has lovely coconut palms fringe the golden sands. There are a number of beach resorts in and around Kovalam.
Foreigners throng Ayurvedic parlors, yoga and meditation centers, that have sprung up all over the place. Kovalam is finding a new significance in the light of several Ayurvedic salons, and recuperation and regeneration resorts which provide a slew of Ayurvedic treatments for the tourists. The sands on the beaches in Kovalam are partially black in colour due to the presence of ilmenite and thorazite. There are two main beaches at Kovalam, separated by a high cliff. There is small light house in the Eve's beach. The normal tourist season is from November to March.
History of Kovalam Beach : The European guests of the then Travancore kingdom discovered the potentiality of Kovalam beach as a tourist destination in the 1930s. But the real fame as an ideal beach resort was won later for the Kovalam beach in the early Seventies with arrivals of the masses of 'Hippies'. It was a debut of the transformation of just a casual fishing village of Kerala into one of the most important tourist destinations in the world- the Kovalam beach. Now some foreign companies are bringing chartered tourists in a large number to Kovalam beach apart from the usual travelers, most of them are repeating travelers.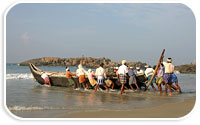 Fact Files:
By Air
The nearest airport is Thiruvananthapuram (Trivandrum) about 15kms from Kovalam.
By Rail
Thampanur railway station in Trivandrum is an important rail head of the Southern Railway and is well linked to major towns up country as well as within the State just 15 Kilometers from Kovalam.
By Road
Thiruvananthapuram the capital City of Kerala is easily accessible by road.