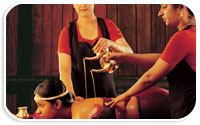 Kerala and Ayurveda can be considered synonyms to each other. Plan your Ayurveda tour to Kerala in order to know more about the science which is 5000 year old.Your Kerala Ayurveda tour will not only help you understand Ayurveda better but also Kerala in general. On this tour, you will undergo a short Yoga and Meditation course in the resort itself. Apart from that you will cover cities like Cochin, Trivandrum, Munnar and Kovalam. The tour will help you to understand the arts and culture of Kerala. Your Ayurveda tour to Kerala will be exciting, interesting, informative and fun.
OUR AYURVEDIC REJUVENATION THERAPY PACKAGES

REJUVENATION THERAPY (7 NIGHTS) PER PERSON SINGLE OCCUPANCY Rs. 67, 635/-
REJUVENATION THERAPY (7 NIGHTS) PER PERSON TWIN SHARING Rs. 48, 520/-
REJUVENATION THERAPY (14 NIGHTS) PER PERSON SINGLE OCCUPANCY Rs. 1, 31, 250/-
REJUVENATION THERAPY (14 NIGHTS) PER PERSON TWIN SHARING Rs. 95, 025/-
REJUVENATION THERAPY (21 NIGHTS) PER PERSON SINGLE OCCUPANCY Rs. 1, 90, 835/-
REJUVENATION THERAPY (21 NIGHTS) PER PERSON TWIN SHARING Rs. 1, 39, 520/-
These packages are done at various Resorts in Kerala as per your taste.
The above mentioned packages include:
• Accommodation on full-board basis
• Body massage
• Punagathi kizhi
• Pizhichil
• Njavara Kizhi
• Njavara Kizhi
• Shirodhara
• Body massage
• Steam bath
Notes:
The rates mentioned above include Ayurvedic treatments, meals (including Ayurveda diets), accommodation and taxes.
20% deduction from the per person twin sharing cost if your companion doesn't require the treatment.
These rates are not inclusive of any extra treatments that may be prescribed by the doctor. All the payments must be settled at the time of check–out.
The time slot cannot be always booked in advance. Your time slot will be announced at the time of consultation on the first day.
You are requested to carry your previous medical history during consultation. This is to ensure a perfectly tailor-made treatment with due consideration given to your specific problems.
The internal medicines prescribed can be bought from the centre directly.
These rates are valid till 30 September 2011.

Ayurveda - Rejuvenation Packages - 15 days 14 nights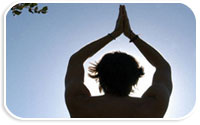 Wake your body, mind and soul with the healing touch of Ayurveda. Rejuvenation package aims at preventing the destructive effects of ageing on the human body together with promoting the quality and quantity of ones life span. You can choose and experience the wonders of this Ancient Science of Ayurveda with specially designed Rejuvenation package prepared by our own Ayurveda Physician and assisted by a team of skilled and qualified masseurs. • - All meals (vegetarian), rejuvenation oil massages, refreshing medicated baths, replenishing herbal diets, meditation and all applicable taxes. - The combination of any two or three of the following therapies depending upon the body condition of the guest. • General body massage with herbal oils • Steam bath in herb enriched steam • Dhara with medicated herbal oil • Half body massage with herbal oils • Special head massage
Benefits of Ayurvedic Rejuvenation :
• Helps to rejuvenate body, mind and soul
• Tones up the skin
• Replenishes the reservoir of mental vitality and health
• Strengthens all systems of body so as to achieve sound health and longevity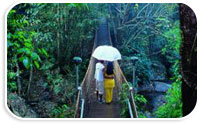 Monsoon, the ideal time for rejuvenation Traditional texts reveal that the monsoon is the best season for rejuvenation programmes. The atmosphere remains dust-free and cool, opening the pores of the body to the maximum,making it most receptive to herbal oils and therapy Kerala's fitness-improving, exhilarating environment is enjoyable round the year. However the monsoon season stands apart. During the four-month long rain, the nature unfurls all its facets. it is romantic, its gloomy, it is violent, it is broody Mother Nature is active in its constructive and destructive roles alike. Seeds germinate, saplings take root and farmers commence their hectic annual schedule. The monsoon season begins on 1 June. It ushers into southern Kerala coast with the escort of thunder. Slowly it envelops the entire state bringing solace to soaked soil, and parched throats. It would be a rare moment witnessing the onset of monsoon. Dark bellowing clouds close in and thundering follow. In a jiffy, Heaven's Fireworks begin.
The fury of nature brings floods to low areas and landslides to hilly regions. Overflowing rivers wreak havoc on both shores. Trees get uprooted in the blustery weather. Sea turns furious with surging waves lashing on the entire Kerala coast. Sometimes rain is escorted by powerful gust.A monsoon storm in Kerala further enriches an atmosphere already purified by its trees, cleared by its waterways and the sea washing its coast.